Practice Statement
Dr. Cohen's office offers Transcranial Magnetic Stimulation (TMS), a medication-free alternative treatment for depression.
NeuroStar Advanced Therapy (TMS)
At Principium Psychiatry, we utilize state of the art technology and have partnered with NeuroStar. To ensure we provide the best results for our patients, we use NeuroStar transcranial magnetic stimulation (TMS) to conduct treatment sessions.
Effective and Safe NeuroStar Treatment
TMS treatment using NeuroStar has been demonstrated to be safe and effective in over 65 clinical studies. This treatment option for depression also lacks any of the side effects related to other, more traditional antidepressant medications. The primary side effect of NeuroStar TMS is mild to moderate pain which subsides within the first week of treatment.
Over 4 million TMS treatments have been given with 110,000 patients treated using NeuroStar therapy. Studies show that 83% of patients receive significant improvements in depression symptoms with 62% experiencing long-term and lasting relief from depression.
The NeuroStar Treatment Experience
Here's what you can expect from a NeuroStar Advanced Therapy (TMS) session:
Before treatment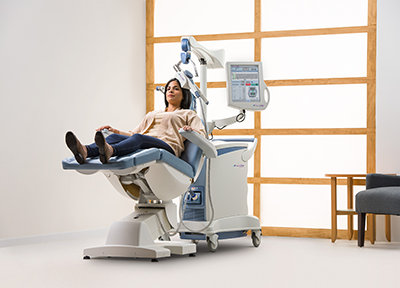 You'll recline comfortably in the treatment chair
A small, curved magnetic coil will be positioned lightly on your head
During treatment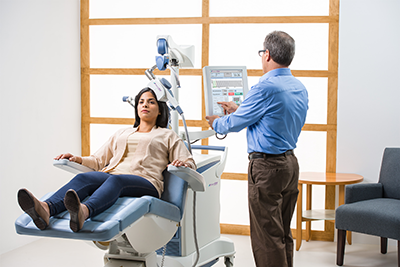 NeuroStar delivers focused magnetic stimulation directly to the target areas of the brain
You'll hear a clicking sound and feel a tapping sensation on your head
After treatment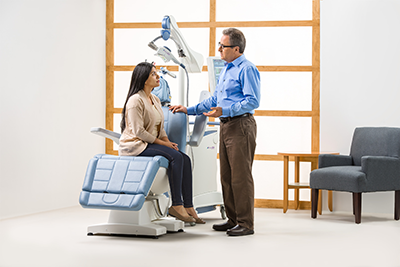 You can resume normal activities immediately
Because there are no effects on alertness or memory, you can drive yourself to and from treatment sessions
In-office treatment with NeuroStar TMS Therapy takes 19-37 minutes and is administered five days a week for approximately 4-6 weeks.*
What Is NeuroStar TMS Therapy?
Transcranial Magnetic Stimulation, or TMS, is the latest generation of direct brain stimulation therapy for the treatment of depression. Using non-invasive technology, this therapy stimulates the regions of the brain implicated in depression to treat the debilitating symptoms of this condition. TMS does not involve medication and is performed on an outpatient basis. During NeuroStar therapy, a metal coil sends magnetic pulses to certain areas of the brain. These pulses stimulate activity in the affected parts of the brain to aid with mood regulation processes.
Our Personalized Care Model
Dr. Cohen offers TMS in a discreet, private office setting in the heart of Manhattan on W 57th St, with a view towards Central Park and NYC Landmark Alwyn Court.
Dr. Cohen will provide a full consultation on the indications for TMS as well as review psychopharmacology history and options.
Dr. Cohen works closely with each patient's primary psychiatrist, TMS technician, and the device manufacturer, Neuronetics, Inc., to provide optimal treatment outcomes.
Common Myths About TMS Treatment Using Neurostar
As a newer mental health treatment, NeuroStar TMS has plenty of myths surrounding its use and effects. Consider these facts about NeuroStar:
Myth #1: NeuroStar Therapy Only Has Preliminary Research
Fact: TMS has more than a decade of evidence supporting its effectiveness and Food and Drug Administration (FDA) approval.
The FDA approved of NeuroStar in 2008 — more than one decade ago. NeuroStar also has the most clinical studies for TMS in depression supporting its treatment effects.
Myth #2: Health Insurance Doesn't Cover NeuroStar and TMS Therapy
Fact: Most commercial and government health plans will cover NeuroStar therapy for depression.
NeuroStar currently has FDA approval for treating depression, making it eligible for insurance coverage. Your insurance may not cover off-label TMS treatment for conditions such as anxiety.
Myth #3: TMS Works Like Electroconvulsive Therapy (ECT)
Fact: TMS resembles a magnetic resonance imaging (MRI) procedure more than it does ECT.
TMS uses magnetic pulses with the same type and strength as those used for MRIs. Unlike ECT, TMS does not require sedation or affect cognition.
Myth #4: TMS Causes Mental Health-Related Side Effects
Fact: TMS treatments like NeuroStar have fewer side effects than antidepressants, and these tend to involve only minor discomfort.
The most common side effects of NeuroStar therapy include temporary pain and discomfort at the treatment site. About .01% of people have a risk of seizure during TMS.
Myth #5: TMS Therapies Like Deep TMS Work Better Than NeuroStar TMS
Fact: NeuroStar treats depression just as effectively as other TMS therapies and there is more data supporting the efficacy of TMS.
Studies show no significant difference between the positive effects of NeuroStar and other TMS therapies on depression. Different TMS therapies may have specific effects on other mental health conditions like OCD. Neurostar TMS is supported by randomized clinical trials involving hundreds of patients.
Reasons to Visit Principium Psychiatry for TMS Therapy
Patients in New York City rely on the team at Principium for mental health treatment for benefits such as:
Personalized Treatment Process: Principium creates a personalized treatment process for each patient that fits the unique needs of the individual patient.
An experienced care team: Dr. Cohen oversees the treatment process and works closely with the primary psychiatrist and TMS Technicians. Principium offers a full team of psychiatrists, psychiatric nurse practitioners and technicians at three locations in Manhattan. The Principium team provides personalized care models and individual support in a warm and relaxing treatment setting.
Travel convenience: You can visit our discreet and private office near Columbus Circle and Carnegie Hall. It has close access to multiple subway lines. We also have a location in Lower Manhattan located along Wall Street. Learn more about Principium Locations.
Discover Your NeuroStar Treatment Options in Midtown Manhattan
Find out if you could benefit from NeuroStar by scheduling an appointment at Principium.
The suite in which I received the treatment was comfortable and welcoming. I was able to relax during the treatments and each time I left, I felt more at peace.
Before starting TMS, I was so depressed that I couldn't eat, sleep or get out of bed. I had stopped doing the things I enjoyed entirely, because I didn't have the energy or interest. It took a few weeks, but I started to notice myself thinking more positively and it kept improving from there. Thank you, Dr. Cohen!
The treatment was so much more comfortable than I thought it would be. I experienced slight discomfort during the first two treatments, but it was smooth sailing from then on!
*Patient names have been changed in order to preserve privacy.